WHAT is TMD?
Temporomandibular disorder (TMD) is caused by anxiety and stress.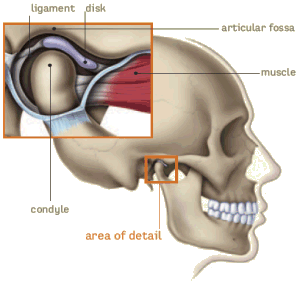 Stress causes multiple mistakes in the processing of the vital information neurons in the brain receive. The smallest changes in the bite due to a new filling, crown, or extraction or the long hygiene appointment or a slight injury to the jaw, may cause a catastrophic overreaction of the mechanism that protects the temporomandibular joint (TMJ).
This mechanism causes the muscle to tense or go into spasm. This causes the jaw to change its position and moves the disc out of its place. Which in turn creates an obstruction in the opening of the jaw , and is the cause for clicking, popping and difficulty in opening.
If left unattended in time it will further damage the joint and increase the patient's stress, thereby creating a snowball effect. The rest of the body is affected by this vicious cycle, which may result in the total deregulation of the homeostasis.
********