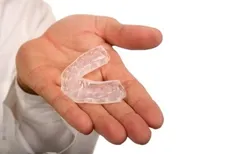 In our practice we dedicate our time primarily to TMD/TMJ care . The length of treatment depends on the severity of the condition, but seldom takes longer than 12 months.
The main course of treatment is fabrication of MORA (orthotic repositioning appliance). This allows for the equilibration of the bite without actually damaging or moving the teeth. The lower jaw repositions on its own due to the muscle relaxation.
Treatment is effective even if you have been suffering for years or have been seeing other providers with no result
Other treatment modalities may be employed as necessary: soft tissue laser treatments, trigger point injections, anti inflammatory injections into the joint, medications (antidepressants and/or muscle-relaxants), botox injections.
We believe in integrative medicine. Patients might be referred to other specialists as necessary, and the treatment by chiropractor, acupuncturist and massage therapy might be required.
Please note that TMD is a complex problem, and the success of the treatment is largely dependent on the patient's compliance with the suggested course of treatment.